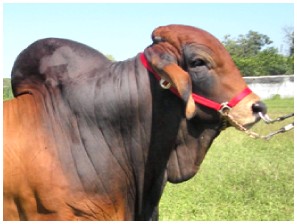 Buy the Best Bull first… buy a Wayside Bull!
We started breeding with Red and Grey Stud Brahmans over 30 years ago this was after years of experimentation with many other breeds that in the end could not handle the harsh Botswana conditions. Brahmans are hardy, adaptable, fertile, virile, heat tolerant, disease resistant and require low levels of maintenance.
We have a passion for Brahmans and strive to breed the best for both the local and international markets. This is achieved through stringent performance testing and visual appraisal.
For many years now we have been using Artificial Insemination to better our breeding herd and sale bulls with semen from South Africa, America and the very best of our own production.
In our embryo program we are flushing our top cows bred to some of the very best Bulls in the breed. We have had some phenomenal success with some outstanding calves on the ground and more on the way.
To keep up to date with the developments in genetics and the breed internationally we have attended the 2000 World Brahman Congress in South Africa, the 2002 World Brahman Congress in Australia, the 2008 World Brahman Congress in Texas America and the 2010 World Brahman Congress in Brazil.
We recently exhibited show cattle at the 2014 World Brahman Congress in South Africa and where extremely happy with our efforts. The show had over 800 stud Brahmans on exhibition. We exhibited 14 cattle made up of bulls and females and managed to win 11 top 6 positions. Our best achievement was winning second place with one of our Grey bulls, WBS 11400, out of our best herd sire Wayside Mr. Hammer WBS 03155.
Our next major events are the Thabazimbi Show in Limpopo South Africa at the end of July and then the Gaborone Show at the end of August.
Read our site in your language!